LARGE GARDEN STATUE RELIEFS , LARGE RELIGIOUS CARVED SCULPTURES, GARDEN STATUES, LARGE ITALIAN STATUARY YARD STATUE
| | |
| --- | --- |
| HOME Amfora Company 7145 Watt Ave Ste 5, North Highlands, CA-95660 Toll Free 800 515 1977 , Fax 916 515 1639 Email:[email protected] Web; www.italartworld.com | Wholesale Price; Links for Authentic Italian Marble Statues, Sculptures, Fountains, Religious Statuary, Animal Statues, Gazebos, Classical Greek and Roman Statuary & High Fired Terracotta ... Bonded Marble Imported from Northern Carrara Region of Italy . Large Statues | Small Statues | Sacred | Fountains | Large Planters | Miscellaneous | Busts | Bases | Animals | Italian Marble Catalogs | Terracotta Catalogs |Fax/Mail Order Form | Warrantee/Product Info | Contact Us | About Us | Site Map |
| | |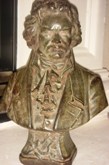 Click on Thumbnails for Finishes:
Natural White-Aged Patina Nuance -Terracotta Nuance- Tufo Nuance- Glossy Hand (polished) Nuance-Antuque Bronze Finish-Glossy Rosetta Finish
Please email or call us for more info about finishes and shipping charges ; Email ;

[email protected]
Toll Free 1800 515 1977 Fax 916 515 1639
In Greek mythology, Nike (pronounced /ˈnaɪkiː/; Greek Νίκη pronounced níːkɛː, meaning Victory, was a goddess who personified triumph throughout the ages of the ancient Greek culture. Depending upon the time of various myths, she was described as the daughter of Pallas (Titan) and Styx (Water), and the sister of Cratos (Strength), Bia (Force), and of Zelus (Rivalry). Nike and her siblings all became described as attendants of Zeus when his cult gained the position of the dominant deity of the Greek pantheon and the roles of older deities were changed in new myths. According to classical (later) myth, Styx brought them to Zeus when the god was assembling allies for the Titan War against the older deities. Nike assumed the role of the divine charioteer, a role in which she often is portrayed in Classical Greek art. Her Roman counterpart is Victoria. Nike is seen with wings in most statues and paintings. Most other winged deities in the Greek pantheon had shed their wings by Classical times.
Click on Nike (Victory) statue back to ordering page ( pedestal sold separate ) -Cast from Carrara marble in Italy .