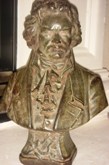 Click on Thumbnails for Finishes:
Natural White-Aged Patina Nuance -Terracotta Nuance- Tufo Nuance- Glossy Hand (polished) Nuance-Antuque Bronze Finish-Glossy Rosetta Finish

Click on browser back arrow to go back to previous page !
The treatments for our Bonded Carrara marble statuary that we propose on our range are typically handmade. The final appearance is an aging almost natural that show the decorations and the details of our models.
It is very simple to place our models; with a bit of fantasy it is possible to create an ancient harmonious atmosphere on your gardens, balconies, houses.
Glossy Rosetta Finish
We produce 7 different kind of nuances:
| | |
| --- | --- |
| - Natural White | |
| - Aged patina Nuance | |
| - Terracotta Nuance | |
| - Tufo Nuance | |
| - Glossy -hand (polished) Nuance | |
| | |
| --- | --- |
| - Antique Bronze Finish | |
| | |
| --- | --- |
| - Glossy Rosetta Finish | |