Venus Di Milo Statue , Classic Di Milo Statues , Greek Aphrodite statue Goddesses Roman Venus statues Outdoor Statue Italian Statuary Aphrodite of Milos, better known as the Venus de Milo, is an ancient Greek statue and one of the most famous works of ancient Greek sculpture. Created at some time between 130 and 100 BCE, it is believed to depict Aphrodite (Venus to the Romans) the Greek goddess of love and beauty. It is a marble sculpture, slightly larger than life size at 203 cm (6 ft 8 in) high. Its arms and original plinth have been lost. From an inscription that was on its plinth, it is thought to be the work of Alexandros of Antioch; it was earlier mistakenly attributed to the master sculptor Praxiteles.
| | |
| --- | --- |
| HOME Amfora Company 7145 Watt Ave Ste 5, North Highlands, CA-95660 Toll Free 800 515 1977 , Fax 916 515 1639 Email: sales@italartworld.com Web; www.italartworld.com | Wholesale Price; Links for Authentic Italian Marble Statues, Sculptures, Fountains, Religious Statuary, Animal Statues, Gazebos, Classical Greek and Roman Statuary & High Fired Terracotta ... Bonded Marble Imported from Northern Carrara Region of Italy Large Statues | Small Statues | Sacred | Fountains | Large Planters | Miscellaneous | Busts | Bases | Animals | Bonded Marble Catalogs | Terracotta Catalogs |Fax/Mail Order Form | Warrantee/Product Info | Contact Us | About Us | Site Map |
| | |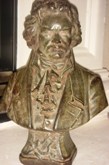 Click on Thumbnails for Finishes:

Natural White-Aged Patina Nuance -Terracotta Nuance- Tufo Nuance- Glossy Hand (polished) Nuance-Antuque Bronze Finish-Glossy Rosetta Finish

Please email or call us for more info about finishes and shipping charges ; Email ; sales@italartworld.com Toll Free 1800 515 1977 Fax 916 515 1639

Click on below Large Venus statue picture back to main page -Made in Borgo San Giacomo, Italy.

Glossy Rosetta Finish- Made in Italy!
Click on browser back arrow back to previous page .

The treatments for our Carrara marble statuary that we propose on our range are typically handmade. The final appearance is an aging almost natural that show the decorations and the details of our models.
It is very simple to place our models; with a bit of fantasy it is possible to create an ancient harmonious atmosphere on your gardens, balconies, houses.


We produce 6 different kind of nuances:

| | |
| --- | --- |
| Natural White | |
| Aged patina Nuance | |
| Terracotta Nuance | |
| Tufo Nuance | |
| Glossy -hand (polished) Nuance | |

| | |
| --- | --- |
| Antique Bronze Finish | |

| | |
| --- | --- |
| Glossy Rosetta Finish | |