Large Italian fountain Statue horse Fountains in cast and carved Marble in Italy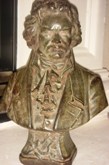 Click on Thumbnails for Finishes:
Natural White-Aged Patina Nuance -Terracotta Nuance- Tufo Nuance- Glossy Hand (polished) Nuance-Antuque Bronze Finish-Glossy Rosetta Finish
Email ; [email protected] Toll Free 1800 515 1977 Fax 916 983 6649 Call or Email before Checkout for shipping charges !!!
Click on Marsillia Fountain Back to Large Fountains page -Made (cast) in Carrara marble in Italy !