CLASSIC CAST YARD. FOUNTAINS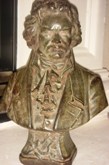 Click on Thumbnails for Finishes:

Natural White-Aged Patina Nuance -Terracotta Nuance- Tufo Nuance- Glossy Hand (polished) Nuance-Antuque Bronze Finish-Glossy Rosetta Finish

Please email or call us for more info about finishes and shipping charges ; Email ;

[email protected]

Toll Free 1800 515 1977 Fax 916 515 1639

Click on below Large Fountain picture back to fountain main page -Made in Borgo San Giacomo, Italy.

!