| | |
| --- | --- |
| HOME Amfora Company 7145 Watt Ave Ste 5, North Highlands, CA-95660 Toll Free 800 515 1977 , Fax 916 515 1639 Email:[email protected] Web; www.italartworld.com | Wholesale Price; Links for Authentic Italian , Greek , Roman ... Marble Statues, Sculptures, Fountains, Religious Statuary, Animal Statues, Gazebos, Classical Greek and Roman Statuary & High Fired Terracotta ... Bonded Marble Imported from Northern Carrara Region of Italy . Large Statues | Small Statues | Sacred | Fountains | Large Planters | Miscellaneous | Busts | Bases | Animals | Bonded Marble Catalogs | Fax/Mail Order Form | Warrantee/Product Info | Contact Us | About Us | Site Map |
| | |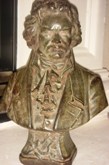 Click on Thumbnails for Finishes-- we have 6 finishes for extra charge please call or email to request !
Natural White-Aged Patina Nuance -Terracotta Nuance- Tufo Nuance- Glossy Hand (polished) Nuance-Antuque Bronze Finish-Glossy Rosetta Finish
Best Statues from Italy
Click on for
Italian Statue and Fountain World
If you are looking for the
best statues from Italy
, look no further as we are a direct importer of the
best statues from Italy
. Actually we are a direct importer of Italian Carrara bonded marble statues, fountains, planters, busts and reliefs. Bonded marble products provide the beauty and aging characteristics of carved marble at a greatly reduced cost. Our
best statues from Italy
can be displayed outside year-round in any climate.
Since curb appeal means a lot to any home and any homeowner; it is a wise investment to improve the look of you home, at least from the exterior. With our variety of the
best statues from Italy
you can expect to add beautiful decoration to your front yard. The addition of the
best statues from Italy
, you will not only add beauty to your home, you will even be able to increase its selling value to potential buyers.
Others like statues from Italy simply for that Italian look, and for those people we have a variety of statues from Italy. Our inventory of the best statues from Italy includes animal statues from Italy, angel states from Italy, sacred statues from Italy, and bust statues from Italy.
For more information about the best statues from Italy please continue on to the rest our website, where you will find detailed information about our full inventory of the best statues from Italy along with pictures of all of our products. Please feel free to give us a call if you have any questions about our products, we will be happy to help.
Amfora Company
7145 Watt Ave Ste 5
North Highlands CA 95660
Toll free 1 800 515 1977 Direct 916 505 2722
Fax 916- 515 1639
Email us about
Best Statues from Italy

[email protected]
Best Statues from Italy
>
Best Statues from Italy
Paradise Homes & Gardens
|
Best Statues from Italy
|
Italian & Greek Statues
|
Bonded Marble Statues
|
European Quality Homes & Gardens